Gileboom architecture and design is a mix of tradition and modernity. The rooms have local Gilaki names.
First floor has four cozy rooms named 'Talar Otagh' , 'Somamous' , 'Rash' , and 'Khotka'. Khotka is room for hosts as they live in this traditional house, other rooms are for guests.
Second floor has two rooms named 'Jorkhane' and 'Gishar'.
The house can accommodate up to 17 guests and is equipped with wireless network (WiFi).
Gileboom accommodation facilities include:
First floor:
For winters, gas and electric heater is provided. 

For summers, fan is equipped.

There is a handle inside the toilet for helping elder guests and those on wheelchair.
Second floor:
Jorkhane
Jorkhane is an ensuite room which is located in the second floor, it is a big suit which its area is 40 square meters. It can accommodate up to 5 guests and has one Iranian style toilet with one Western style toilet with bathroom. One bed is provided for this floor. For winters, gas heater and for summers, air conditioner are provided.
Gishar
Gisahr is a cozy attic located in the second floor. This room doesn't have WC service. You can use shared WC service of first floor or shared WC service located in the yard adjacent to Eco Kolbe. One bed is provided for this room. For winters, electric heater and for summers, fan are provided.
Eco-Kolbe is a cozy cottage, triple room made of mud and wood in the yard. There is no stair for entrance, we built a ramp for considering guests on wheelchair or elder people.
It is an ensuite room which has a Western style toilet with a shower, enough handles inside for elder guests and those on wheelchair.
The cottage is equipped with a traditional fireplace and an electric heater (for very cold winter days) and a fan for summers.
Konduj is traditionally used for the warehouse of rice stems, now it has turned into a tree house where kids can play and sometimes it is a place to sleep or a private room for guests.
The house is surrounded by a 1,500-square meter yard, planted with various trees. The guests can enjoy eating fresh citrus fruits from the garden in autumn and winter. Wild pear trees, known as Anbu, bear fruits in June. There is an Iranian style toilet and bathroom in the yard adjucent to Eco-Kolbe.
A special area is provided in the backyard for setting up campfire. The place is decorated with wooden and stone benches for sitting together.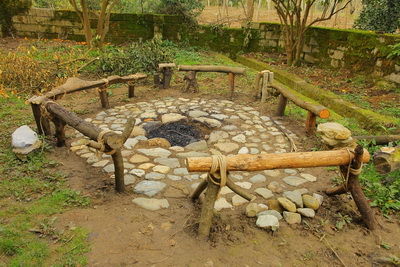 Gileboom is located within a 15-minute walking distance from the main east-west highway and a 20-minute walk from the beach. It is also a 15-minute walk away from the jungle.
To familiarize the guests with the traditional folk music of the region, Gileboom organizes live performances by local Ghasem-Abadi performers.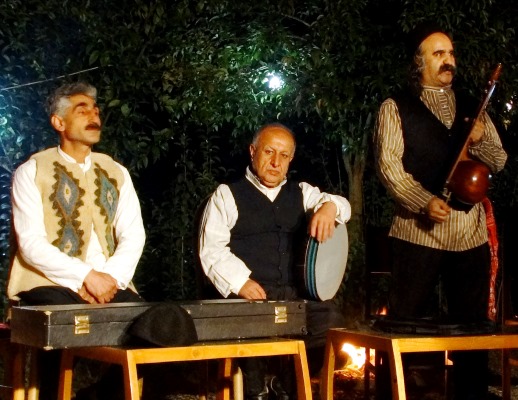 For more pictures of homestay, refer to photo gallery section.
Gileboom's hall is a common room where everyone can gather. Each room has a local name such as Talar Othagh, Khootka, Rash, Somamous, and Jorkhaneh. Among these, Khootka is occupied by the hosts.